College Of Agriculture, Latur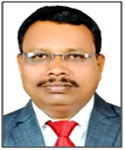 Dr.Babasaheb Manikrao Thombre
Associate Dean and Principal
From the Desk of Associate Dean and Principal
It gives me an immense pleasure in presenting the salient achievements of this college. Our learned faculties put their sincere efforts in delivering course curriculum, managing examinations and evaluations and timely announcements of the results. I strongly believe that the integration of information technology / e-learning will further emerge as an integral component of SAU's teaching-learning and evaluation systems.
Simultaneously, our students READY program has been implemented practically to reorient agricultural graduate for ensuring and assuring employability and entrepreneurship. We regularly organized Blood Donation Camps, Sports and Cultural week, student's personality / HRD / entrepreneurship developments programs, NSS camp, Symposium / Seminar / Conferences etc for welfare of our students. Our majority of the faculties proactively participated in several trainings and webinars organized at National and International levels. I foresee that our college is emerging as one of the premier institute in the fields of Teaching, Research and Extension.
For smooth functioning of an academic institution as well as achieve pinnacles of the academic excellence, moral support of visionary administrator plays a vital role. Likewise, I express my deep sense of gratitude to Prof. (Dr.) Indra Mani, Hon.Vice-Chancellor, VNMKV,Parbhani, for his optimistic foresight, conceptual motivation and considerable financial support to overall developments of this college. I also profusely grateful to Dr.D.N.Gokhale, Director of Instruction and Dean (F/A), VNMKV, Parbhani, for his valuable guidance and support to various academic and co-curricular / extra-curricular activities of this college.
I commend untiring efforts of the faculties, technical, non-technical, supporting staff and students of this college and I appeal everyone to rededicate ourselves with renewed commitment and perseverance for the institutional building.